Holiday Cookies
image courtesy: Food Network
'Tis the season to be jolly, FALALALALALALA.
And why not? It's cookie swap season. This year marks the second annual cookie exchange with my book club. No doubt, Thursday will be a busy day for me, as I bake 7 dozen cookies. The upside, returning home with 7 dozen cookies of various flavours. I know you must be jealous!
So this post is all things cookie related. From storing, to baking, and even how to host a cookie swap.
ps. Stay tuned for my contribution to the exchange. (hint: a campfire favourite)
Storing Baked Cookies
(courtesy: TLC cooking)
Store soft and crisp cookies separately @ room temperature to prevent changes in texture and flavour

Keep soft cookies in airtight containers. If they begin to dry out, add a piece of apple or bread to the container to help them retain moisture

If crisp cookies become soggy, heat undecorated cookies in an oven set @ 300F for 3-5 minutes

Store cookies with sticky glazes, fragile decorations, and icings in single layers between sheets of waxed paper

Bar cookies and brownies may be stored in their own baking pan. Cover with foil or plastic wrap when cool.

As a rule, crisp cookies freeze better than soft, moist cookies. Rich, butter bar cookies and brownies are an exception to this rule since they freeze extremely well. Baked cookies can be frozen in airtight containers or freezer bags for up to three months. Meringue-based cookies do not freeze well and chocolate-dipped cookies may discolour if frozen. Thaw cookies and brownies unwrapped @ room temperature
Cookie Tips & Tricks
(courtesy: theperfectchocolatechipcookie.com)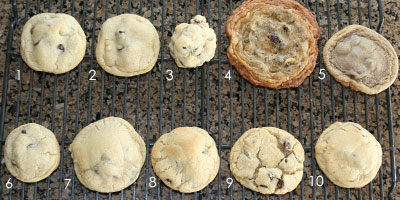 There are many variables in baking. Pictured are cookies with various problems using the same dough (with flour adjustments in numbers 3 &4).
1. This cookie is done just right. It is pictured to compare with the rest.
2. This dough was not refrigerated. It is still good but a little flatter than it should be.
3. This dough contained too much flour and did not spread much at all. It is interesting to note that the dough looked identical to the correct dough, but was much stiffer and drier.
4. This dough had too little flour. It spread too much and didn't bake evenly.
5. This dough was over-mixed. It had a poor colour, baked flat and had a strange consistency.
6. This dough was formed too small. It was overcooked at eight minutes. It is fine to make smaller cookies, just bake them for less time.
7. This dough was formed too large. The outsides were done while the middle was too high and underdone.
8. This dough was baked in an oven 25 degrees too hot. The outside was overdone and the inside was slightly underdone.
9. This dough was baked in an oven 25 degrees too cool. It fell flat and became too crisp without much of an inside.
10. This dough was frozen when baked. It took longer to bake and didn't cook as evenly. To use frozen dough, set on cookie sheet at room temperature while oven is preheating, 15-20 minutes. It takes the frost off and bakes perfectly.
image courtesy: Martha Stewart
Hosting a Holiday Cookie Swap
Decide on a number to invite

(this year we have 14 girls partaking in the exchange)

Ask guests RSVP

(this is important to know how many cookies each guest will be responsible for bringing)

Include rules with the invites

(for example; prepackaging cookies for each guest, bringing a container to take all of your cookies home in etc.)

Assign a number of cookies to bring

(we decided on 4-6 per person)

Share the recipes

(bring index cards or print outs of your cookie recipe to share with everyone)

Most of all have fun, you are surrounded by sweet treats and great friends. So raise a festive beverage and toast the season!